Jacksonville Unfiled Tax Returns Lawyer
When you owe back taxes and have tax debt, life can be stressful. There are many reasons why someone may have failed to file one or multiple years of tax returns. The most important step in dealing with tax debt is to handle any unfiled tax returns. When you fail to file your tax returns, penalties and interest begin to build up. Left alone, this financial problem will only get worse. If you are unsure how to handle growing tax debt, talk with a Jacksonville lawyer. When you discuss tax debt with an experienced tax attorney, you can be better informed about your options for paying back your unfiled tax returns in Jacksonville, FL.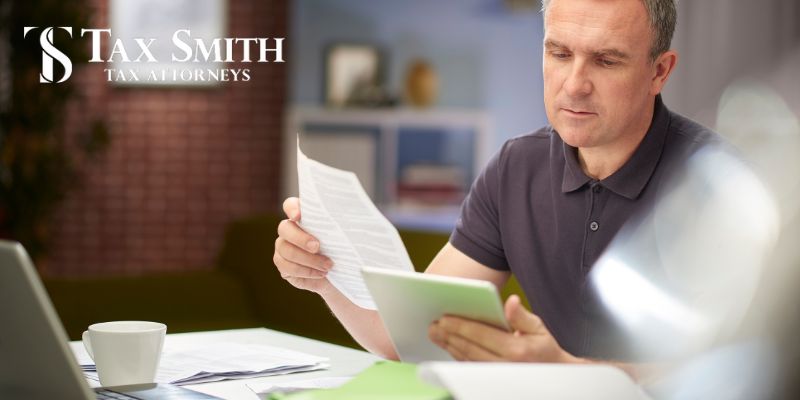 Tax Smith Tax Attorneys: Help With Your Unfiled Tax Returns
If you feel you had reasonable cause for failing to file your tax returns, or simply need assistance limiting your tax debt, you need a qualified tax debt lawyer. At Tax Smith Tax Attorneys, we have decades of combined experience with many types of tax cases. We can provide you with an outline of the options available to you for settling your debt.
When you need help filing your unfiled tax returns, our experts can help. We have worked with many clients on their tax returns and can help you do things the right way. We believe in personalized legal counsel to be sure our advice fits the needs of your situation.
Failing to File Tax Returns
Taxpayers in the U.S. may fail to file their taxes for a number of reasons. An emergency may have come up at the wrong time, or they procrastinated too long. Some taxpayers do not have the money to pay their owed taxes, fail to work with the IRS on a payment plan, and instead try to ignore the issue.
When you fail to pay your taxes on time, the IRS will register a failure-to-file penalty against you. Each month that you fail to file, these charges will grow. The interest and penalties accrued from failing to file can usually be resolved by voluntarily working with legal advisors to address the issue and filing your taxes. If someone has failed to file their taxes willingly, and refuses opportunities to resolve the problem, the IRS may file criminal charges against them. However, there are many consequences that non-filers will see prior to charges being pressed.
Why Do I Need an Unfiled Tax Returns Lawyer?
Although it is possible to file past-due tax returns yourself, it can be overwhelming. The process can be made simpler with an attorney or other tax expert, and legal counsel can also provide you with other options for limiting or erasing your tax debt. Depending on your circumstances, you could qualify for penalty abatement, an offer in compromise, or payment through installment agreements. An attorney can help you file correctly, gather the necessary information, and avoid common pitfalls in tax filing that could cost you money.
A tax attorney can also handle more complex and frustrating filing tasks. They are also more experienced in negotiating tax settlements and other discussions with the IRS. Working with an attorney can lessen your stress. It can also boost your confidence in the accuracy and completeness of your tax returns.
Consequences of Failing to File
Depending on how long you have gone without filing your tax returns, penalties and consequences can build up to severe levels. The problems will extend beyond your finances and will affect much of your life. Consequences for unfiled taxes include:
Voluntary Disclosure for Unfiled Taxes
The IRS has policies for voluntary disclosure. This means that a taxpayer can correct mistakes or file unfiled tax returns. This must be done in a timely manner, before the taxpayer has received notice from the IRS or the IRS has begun an examination or investigation. This can help taxpayers avoid prosecution, sometimes even for fraudulent returns. Voluntary disclosure must be done with accurately filed returns, or the likelihood of criminal charges increases. This program must be entered into with good faith. A tax attorney can help you determine if this is the right path for you and ensure the filing is accurate.
FAQs About Jacksonville, FL Tax Law
Who helps with unfiled taxes in Jacksonville, FL?
You can receive assistance with unfiled taxes from tax attorneys and other tax professionals. They can help you determine what options for settlement are available to you. They can also help you ensure your tax returns are filed with accurate and detailed information. Personalized legal counsel will help you decide if an offer of compromise, a penalty abatement, or another avenue of settlement is best for your situation.
How do I resolve unfiled tax returns?
Talk with a tax professional regarding unfiled returns. They can work with you to gather information and accurately complete your unfiled tax returns. Even if you are unable to pay your tax debt, you should discuss your options. There are avenues for settling or lowering your tax debt. Waiting to file will only increase the penalties, fees, and other consequences from the IRS.
Is there a statute of limitations on unfiled tax returns?
No, there is no statute of limitations on unfiled tax returns. Interest and penalties can be added to any of your unfiled tax returns. If you are filing for unfiled taxes, the IRS generally only requires you to file the last six years' worth of unfiled tax returns. The IRS may require you to file unfiled tax returns from the prior six years if they:
Suspect illegal activity.
Believe that your tax liability was significant.
Need past information for a current tax return.
Do people get away with not filing taxes?
There are reportedly 10 million people with unfiled taxes. However, the IRS has become more aggressive in the last few years in pursuing those who have been non-filers for years. This includes filing substitute tax forms with third-party information and pursuing individuals. There are numerous financial ramifications for failing to file your taxes. You may even face criminal charges.
How Tax Smith Tax Attorneys Can Help You
At Tax Smith Tax Attorneys, we have decades of experience handling unfiled tax returns and communicating with the IRS. We know this industry and IRS tactics well. Our firm can defend you from IRS tactics. We can also provide you with reliable information and filing assistance, as well as help you reduce your tax debt. Contact our firm today.